Zipline Tour
Thanks for a great 2017 season!
We will be back offering tours sometime in March.  Check back for exact dates and to book your tour.
Price $95 per person
Must weigh at least 

60 pounds
Cannot weigh more than 

250 pounds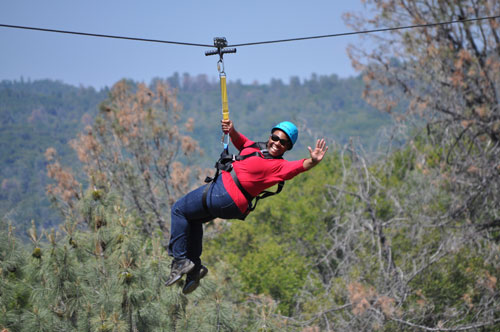 The ziplines at Yosemite Ziplines & Adventure Ranch have been constructed as a 2 hour, six stage guide-led tour. Groups of eight to ten are geared up in helmets and harnesses, then driven up the mountain in Polaris Rangers as their guides explain safety procedures and describe the experience the zippers are about to enjoy.
This family fun adventure begins on Line 1 which is a short and easy ride that even the faint of heart will enjoy. Line 2 increases the distance and the height from the ground. Each line adds more fun and distance as our guests find they are becoming more confident about this "no sweat adrenaline" experience. Line 3 & 4 are dual lines which allows two riders to race each other to the finish. Line 5 not only provides an exhilarating ride through the trees, but also the opportunity to toss a beanbag into a target in the way down.
The group climbs back into the Rangers for a ride to the top of the mountain for a stunning view of Downtown Historic Mariposa – then on to our longest, steepest ride yet on Line 6. Don't forget to check out the stunning views as you fly. The grand finale is line 7 which takes you through a tunnel in the trees and back to ground zero where you began. The total length of the zip lines is 3800 linear feet!
Group Discounts available for groups of 8 or more. Call for details.
Can't zipline? You are welcome to ride along in our 4 wheel drive vehicles and watch your friends and family. ($20 observer fee)
Go Pro Helmet cam rental is also available ($30-and you keep the 16gb sd card).
Everyone must be between 60-250 pounds and we cannot zip anyone who is pregnant.
We accept all major credit cards as payment for your tour, aerial adventure and/or gemstone and mineral mining experience. Don't forget to bring cash for snacks and vending machine as well as a gratuity which our guides will graciously appreciate. Big hearted zippers make great tippers!
Any questions? We would be happy to talk with you. Call 209 742-4844 or e-mail us at info@yosemiteziptours.com
Ready to book your tour? Click on the Book Now button at the top of the page or give us a call.